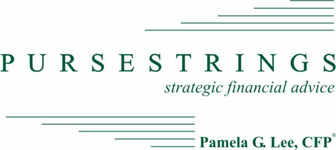 As-Needed Hourly Fee-Only Financial Planning and Advice
Why Pursestrings?
Choosing a financial advisor is like choosing a doctor. That individual must be someone you can trust to provide you with sound advice – whether it is managing your physical health or managing your personal finances. Pamela G. Lee, CFP® is a CERTIFIED FINANCIAL PLANNER™ professional who has been helping people achieve their financial objectives since 1978. Her private practice, Pursestrings, began in October 1987.
With this strong base of knowledge and experience, Pam is able to help her clients evaluate a broad spectrum of financial concerns. To many of her clients, Pam has become their personal "financial wizard" for her ability to objectively provide the pros and cons of any financial decision.
My philosophy is to demystify money for my clients.
Pam explains that, "It is not how much money you have; it's what you do with it that's important. I work with my clients to make sure that they get the most mileage out of their dollars and that they reach their financial goals in the best way possible."
"Each client is unique; therefore, no financial solution is the same. Some of my clients are going through a financial or personal transition. Others have inherited money. Still others are simply having all or part of their financial picture coordinated and fine-tuned."
Pam can help just about anybody put their financial house in order. If you would like to find out more, schedule a complimentary 30-minute get-aquainted meeting with Pam to see if her knowledge and experience match your financial concerns.
Education and Professional Licenses
| | |
| --- | --- |
| 1974 | University of California, Berkeley, BA in Social Welfare |
| 1978 - 2005 | Securities License – License retired in 2005 |
| 1978 - present | CA Insurance License – No longer active in insurance sales |
| 1983 - 2008 | CA Real Estate License – License retired in 2008 |
| 1987 - present | CFP® mark conferred by the CFP Board of Standards |
| 2004 - present | CA Registered Investment Advisor |
| 2006 - present | CA CTEC Registered Tax Preparer |
Personal Message from Pam
Dear Potential Client:

Thank you for visiting my website. Congratulations on taking the necessary first step to seek impartial financial advice from an as-needed hourly fee-only financial planner. If my philosophy and experience appeals to you, please take the second step -- call or email me to schedule a complimentary get-acquainted meeting. I look forward to meeting you.

Warm Regards,
Pam
Contact Us
Pamela G. Lee CFP®
Primary Office
Telephone: (415) 759-0818
Toll Free: (888) 380-0818

Oroville Office
Toll Free: (888) 380-0818