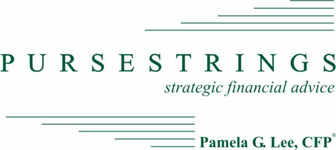 As-Needed Hourly Fee-Only Financial Planning and Advice
Welcome to Pursestrings!
If you are looking for independent, objective financial planning and advice, you have come to the right place. As you will see, Pursestrings is a different type of financial planning firm. Unlike many other firms, we only provide independent, objective advice on an as-needed hourly fee-only basis. Clients have the ability to engage us on a one-time or on-going basis depending on their personal financial needs. There are no minimums. If our philosophy and experience appeals to you, please contact us to schedule a complimentary no-obligation get-acquainted meeting.
Contact Us
Pamela G. Lee CFP®
Primary Office
Telephone: (415) 759-0818
Toll Free: (888) 380-0818

Oroville Office
Toll Free: (888) 380-0818